"Tenukuri-Kobo (Tenukuri Studio)" offers student course for on-site training purpose.

Age limit:
10 years old and/or above, due to work safety reason.
Time:
About 1 hour 45 minutes – 2 hours (may vary based on number of participants)
Group size/ session:
5 pax (minimum), 10 pax (maximum)
(Please contact us if more than 10 pax)
Course contents:
* The workshop focuses on dyeing process.
* 5 – 10 participants dye patterns / motifs on a piece of fabric that is 1 tan in size.
(tan = measurement unit)
* At the end of the session, you will take home a piece of self made tenugui.
Original fabric size is 1 tan.
(tan = measurement unit, 1 tan can produce 10 – 11 pieces of tenugui)
1 tenugui size is about 35cm wide x 90 cm long.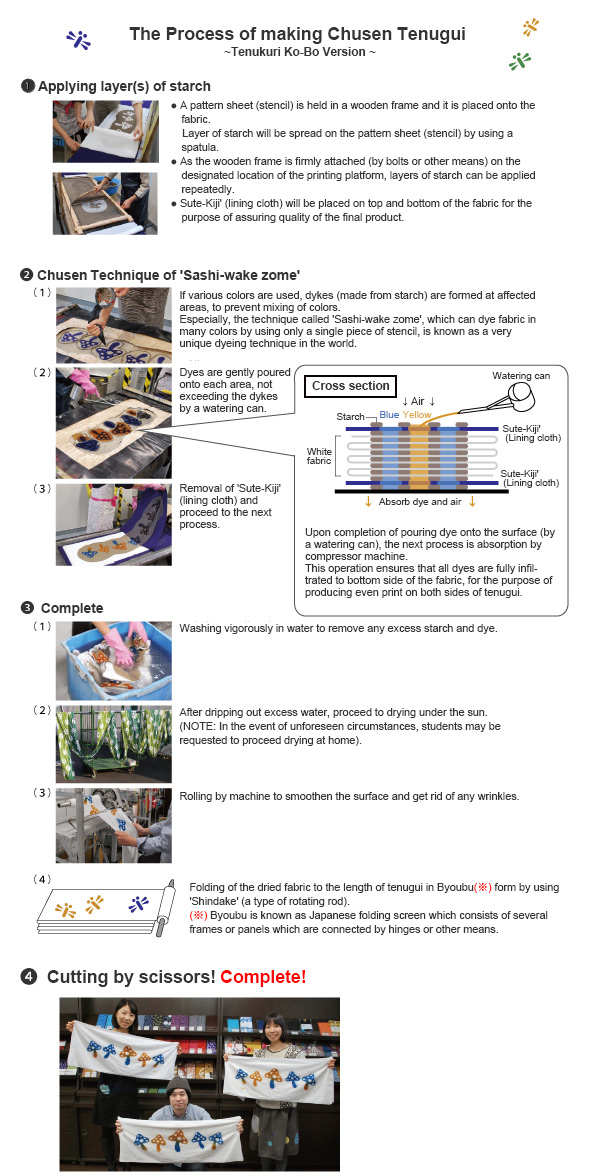 Color Arrangement:
Color(s) will be provided.
Fee:
2,160 Yen per pax (Price inclusive of tax)
(includes training, facility, tool rentals, materials, and other fees)
Others:
We make our best efforts on prevention of an accident and/or injury at our facility.
We (Tokyo Wazarashi Corporation) are not responsible for any accidents and/or any injuries occur during the workshop/event held at our facility.
Please kindly pay attention on all safety manners to have fun, learning at our facility.
Application/Inquiry:
Please contact us for application and/or inquiry about student course.