Experience in Dyeing Tenugui Basic Course
1. Location
Tokyo Wazarashi Souzou Kan 1st Floor
Tenukuri Ko-Bo
>> Access
2. Schedule
Every Tuesday, Thursday and Monday, Wednesday and Friday morning
Please contact us on Saturday and Sunday.
Morning session: 10 a.m. – 12 p.m.
Afternoon session : 2 p.m. – 4 p.m.

3. Capacity
6 pax / workshop (Minimum 2 pax)
* 1 Application will be closed when it reaches the maximum pax.
* 2 Please submit your application at least 3 days prior to the workshop date.
* 3 For group of 6 pax and above, private workshop is also available upon request.
Please contact us for more details.
4. Price
5,500 Yen/pax (tax included)
(includes training, facility, tool rentals, materials, and other fees)
Please complete payment prior to the workshop day by bank transfer or cash payment on the workshop day at our school.
5. Age limit
10 years old and above, due to work safety reason.
It is advisable that parent / guardian to accompany participant of under 18 years old for the workshop.
6. Workshop details and Time
Morning session: 10 a.m. – 12 p.m.
Afternoon session : 2 p.m. – 4 p.m.
Reception: Please proceed registration at least 10 minutes before the workshop starts.
* Workshop time is subject to change in the event of unforeseen circumstances.
* Tenugui gallery and shop are available.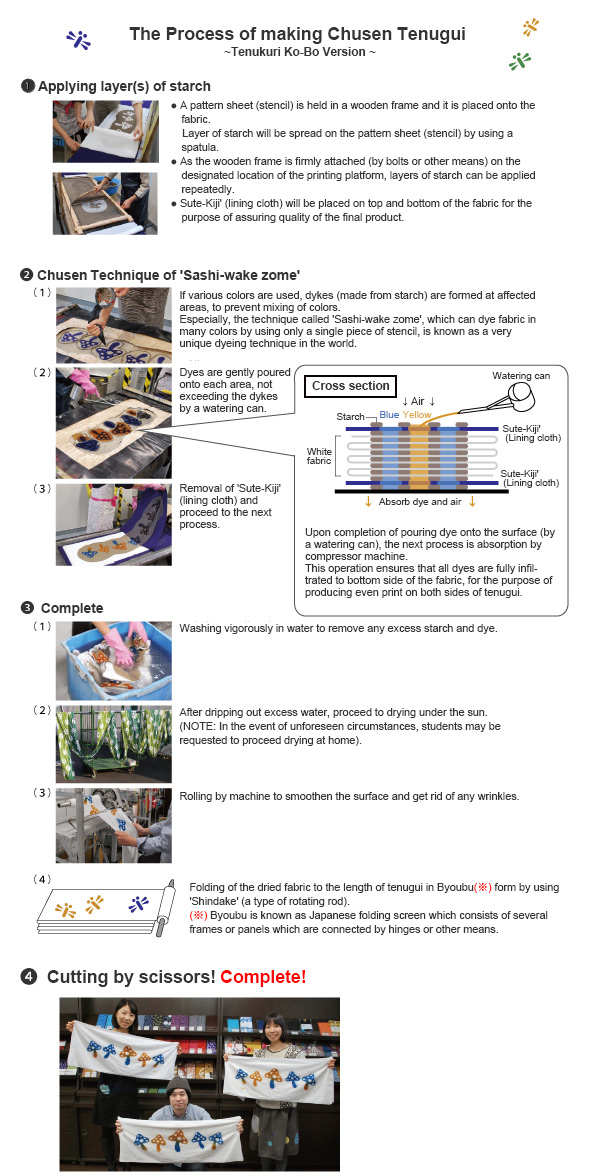 7. Please read the followings prior to using of our facility.
One group (up to 6 people) will dye the fabric of the number of participants using colors pre-adjusted by our experts.
The pattern sheets (stencils) vary on monthly basis.
Participant(s) can take home your completed piece of tenugui.
The workshop will be conducted as per schedule.
Please allocate extra time for registration at the reception.
The objective of the workshop

(*)

is to provide participant(s) an opportunity to experience the process of dyeing and making tenugui.
Therefore, please note that tenugui created in the workshop might not be the same as the workpiece by the professionals.
We make our best efforts on prevention of an accident and/or injury at our facility.
We (Tokyo Wazarashi Corporation) are not responsible for any accidents and/or any injuries occur during the workshop/event held at our facility.
Please kindly pay attention on all safety manners to have fun, learning at our facility.

*

Including Tenugui Jissen Jyuku (Dyeing Tenugui School),Tenugui Katagami Class (Tenugui Pattern Sheet Class), and Tenugui Taiken Basic Course (Experience in Dyeing Tenugui Basic course)
8. Application Form
Cancellation Policy:
When customer cancel a reservation, cost of loss will be imposed as followings:
【Up to 11 days prior to the workshop day】
0% of workshop fee
【4 - 10 days prior to the workshop day】
20 % of workshop fee
【2 - 3 days prior to the workshop day】
50 % of workshop fee
【1 day before and/or on the workshop day】
100 % of workshop fee